Learn to read labels and choose natural products!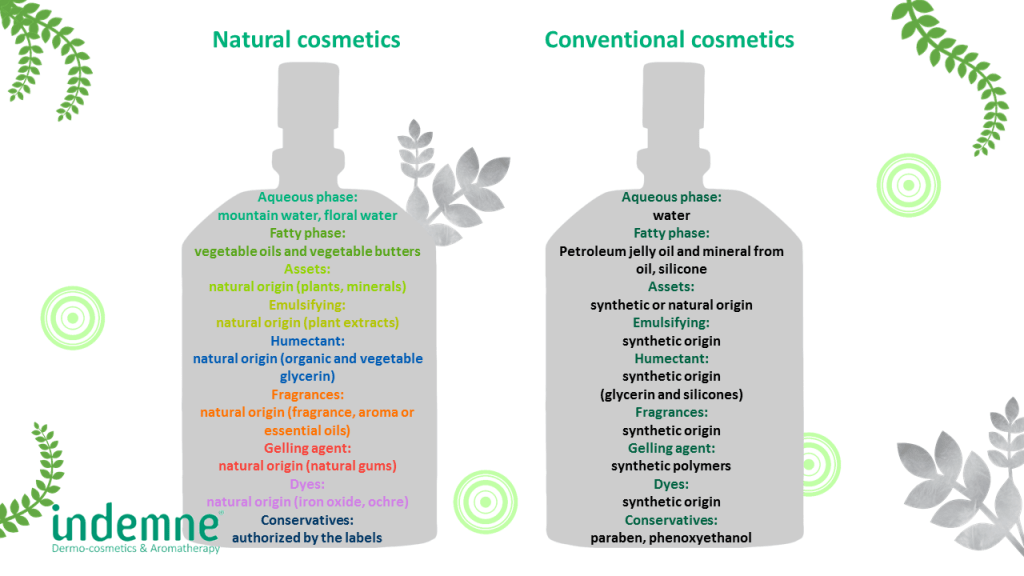 At Indemne, it is morally impossible for us to develop products with a lot of harmful ingredients. That's why we offer you 100% natural cosmetics formulated with essential and vegetable oils ready for use that will solve your various skin problems (acne, psyoriasis, seborrheic dermatitis, cellulite, eczema, etc.) in order to restore the wellness of your skin. Do not hesitate to look for the products that will suit you best here! Sensitive and delicate skins, need not worry, we also have a few things for you!
How do you know that I'm buying the safest products ?
A Campaign for Safe Cosmetics was created since 2004 in order to motivate consumers to buy the safest products and to put pressure on the cosmetics industry to make safer products. It's a project of the Breast Cancer Fund. The role of this campaign is to raise awareness of the problem of toxic chemicals in cosmetics.
We invite you to check out your everyday cosmetic products in order to know if they contain hazardous substances for your health (toxic, allergens, irritating or endocrine disrupting).
If you have any questions about our ingredients, please note that you can find the INCI List (list of ingredients) on each product and on our site!
Key toxic substances to be detected:
Sodium lauryl sulfate, ammonium lauryl sulfate (surfactants, washing agents)
Benzophenone-1, benzophenone-3 (UV filters, protectors of formulas)
BHA (antioxidant)
Butylparaben, propylparaben, sodium butylparaben, sodium propylparaben, potassium butylparaben, potassium propylparaben (preservatives)
Cyclopentasiloxane, cyclotetrasiloxane (emollients, soften the skin)
Ethylhexyl methoxycinnamate (UV filter)
Methylisothiazolinone (MIT), methylchloroisothiazolinone (MCIT) (preservatives)
p-phenylenediamine and analogous compounds (the name of which includes p-phenylenediamine) (dyes)
Phenoxyethanol (preservatives)
Triclosan (antibacterial)
Allergens (perfume, preservatives)
It is possible to find explanations on these molecules. You can research by health problems, type of products and type of population.
Here, you can find "The Story of Cosmetics", released on July 21st, 2010, produced with Free Range Studios and hosted by Annie Leonard, known American activist.
How to choose your cosmetics?
Professionals call upon consumers  to becareful by watching out for and chasing unwanted substances before buying cosmetics.
Here's "Top 5 Safe Cosmetics Tips" by Campaign for Safe Cosmetics
Our guideline to offer you natural products:
No animal testing – Cruelty free and Vegan certification
No ingredients from petrochemicals
Certified Slow Cosmetic
Certified "Origine France Garantie", which means "Made in France".
Tests performed by an independent laboratory
Our packagings are certified FSC (Forest Stewardship Council), an environmental certification guaranteeing the sustainable and ecologically suitable forest management.
A minimum of packaging with a maximum of recyclable materials to preserve our environment.
Find all the details right here!
In conclusion, our cosmetics are natural and we will always be transparent with you!
You can read also: