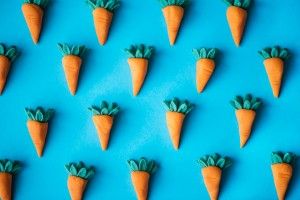 Are you fed up with bloggers posting proudly pictures of their flawless tan? This is high time to show Your radiant and tanned skin with pride! Indemne gives you some 100% natural tips for natural self-tanning!
Your ally number one: the carrot
It has been proven, carrots are good for your skin. Today, we will especially tell you more about the various forms of carrot oils for your self-tanning routine.
The carrot essential oil for a sublime self-tanning
The carrot essential oil is a minor miracle! This oil has numerous properties: it prevents wrinkles, it is detoxifying, regenerative, it helps eliminate liver spots, and it is above all high in beta-carotene and vitamins. That's why we recommend the carrot essential oil to get a radiant and tanned complexion! We advise you to apply it a few weeks before your holidays: as it is high in pro-vitamin A, it will strengthen your skin against ultraviolet rays and thus make you ready for your future sun exposure.

How to use it?
It is simple! To get a radiant complexion you just need to add 1 drop of carrot essential oil to your everyday moisturizing cream. This simple action will enable you to cunningly get a nice coloring day after day and you will be surprised with how efficient is this self-tanning routine.
The carrot vegetal oil for a sublime self-tanning
The carrot oil is made by macerating carrot roots in a basic vegetal oil (sunflower oil, sweet almond oil, olive oil…). After the maceration process, this blending becomes a real vitamin concentrate full of trans fat which enables you to get a uniform tanning. On top of that, the carrot oil tightens your pores, restores the balance of oily skin and moisturizes dry skin. You can find it easily in drugstores and organic shops.
How to use it?
Like whichever skincare cream, you can apply it directly on your face and body by ideally massaging your skin for perfect penetration.
The recipe to make it yourself
If you prefer making your own carrot oil, it is really simple! This only difficulty is to be a little bit patient…
Peel and cut

2 big organic carrots

in thin slices

Allow to dry them in the open-air for 24h

Put the slices in a container and fill it with sunflower

oil

, sweet almond oil or olive oil (however, this latter is thicker than the 2 other)

Let rest for

3 weeks

, stirring from time to time

Add

2 new carrots

to the blending and wait 3 weeks again

Filter the blending
Conservation: We advise you to preserve your preparation away from heat and light in order to keep all benefits.
Precautions for use
As this oil is photosensitizing (development of abnormally heightened reactivity of the skin or eyes to sunlight), we advise you to stop applying in on your skin 24h before you sunbathe.
The Indemne tips:
And for an even more radiant complexion of self-tanning, we recommend you to:
Adopt a high in

beta-carotene

diet and eat foods as apricot, melon, spinach, red peppers, parsley, chervil, lamb's lettuce, mango, and pumpkin.

Take care of your skin. Obviously, coloring better stands out on flawless skin. If you want to have beautifully tanned and smooth legs, we advise you to use the

"Gimme Smooth!" lotion in parallel of the carrot oil. "Gimme Smooth!"

is a natural and effective slimming lotion to reduce cellulite. It is a truly invigorating formula with 7 essential oils including Eucalyptus Dives and Italian Helichrysum with countless virtues. This anti-cellulite lotion smoothes the skin, removes the appearance of orange peel and improves skin texture on legs, thighs, buttocks, and stomach.

After sunbathing use Antisèche oil to nourish your skin!