This Easter, create a relaxing, comfortable or mysterious atmosphere with scented candles, easy and fast!
After learning how to do a sequined perfumed oil, discover our 100% vegan homemade scented candle.
At Indemne we like to create, to transform, deform. So our recipe of the day is made from fragrant Baba Cool care oil. As you know, or not (but now you will know!) Baba cool exists in 2 natural fragrances and is a mix of about twenty essential oils!
A complex of essential oils based on fragrance is a real sensory experience to live, which allows you to regain an inner calm and thus be well in your skin. You have the choice between Almond or Coconut-Vanilla scented products.
The last but not least, don't worry about skin irritations, it is completely safe for your skin, the dosage of oils is in perfect harmony.
Ingredients for your scented candle
Depending on your desires: 1 Baba Cool almond or Vanilla-Coco oil (35 ml)*

45g soy wax (or other vegetable wax)**

1 bowl + 1 saucepan (for water bath)

1 spatula or mini whisk

1 large laundry clamp

1 pair of scissors

1 strand of candle + base

And 1 glass jar of your choice
*for a 75G candle
**We'll have lemon and organic cane sugar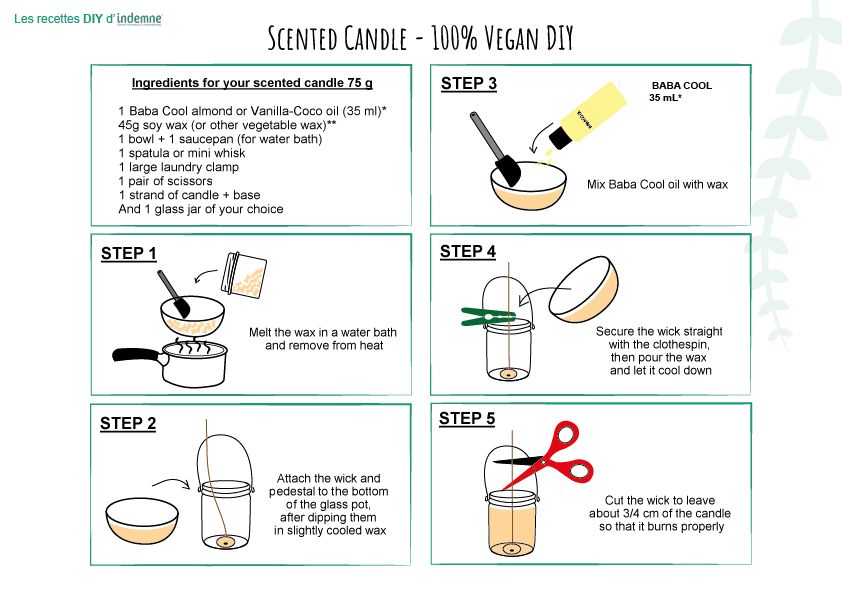 Flavored candle recipe by Indemne
Step 1: Melt the wax in a water bath and remove from heat

Step 2: Attach the wick and pedestal to the bottom of the glass pot, after dipping them in slightly cooled wax

Step 3: Mix Baba Cool oil with wax

Step 4: Secure the wick straight with the clothespin, then pour the wax and let it cool down

Step 5: Cut the wick to leave about 3/4 cm of the candle so that it burns properly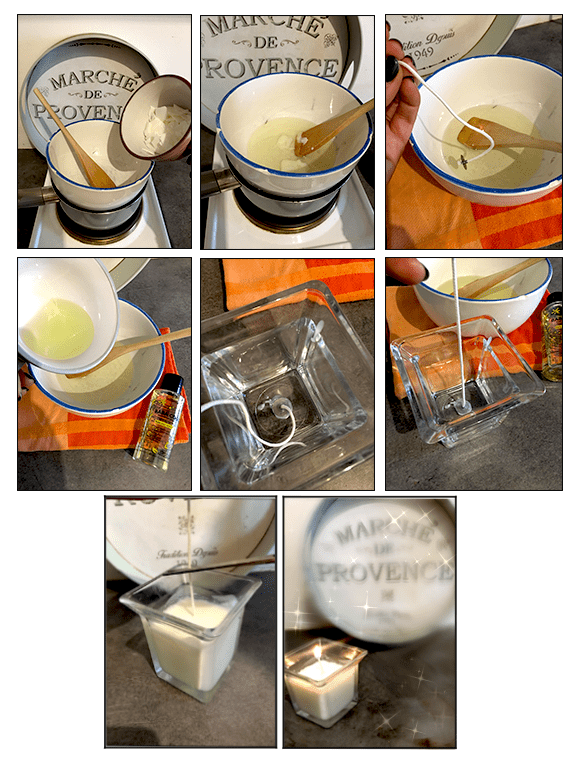 There you go, it's done! Whenever you will light your candle, it will give you a good mood!
Learn also how to do a sequined perfumed oil!