The new beauty ritual!
If you don't know the Eau de Génie yet, Eau de Génie is an organic facial toner to completely remove micelles, make-up residues. It cleanses all skin types.
A 100% organic fruits water to revitalize your complexion by restoring, moisturizing, tightening pores, calming irritated skin and brightens. It prepares and helps your skin to absorb your next skin care step more efficiently.
The plus: Eau de Génie is a subtle ally in your cleansing routine but not only, it fixes your makeup and refreshes you during the day or after exercising.
Eau de Genie's ingredients and benefits
For an optimal efficiency, Indemne meticulously chose the ingredients of this marvellous product:
Organic lemon water: cleansing, decongestant: a perfectly cleaned skin!
Organic grapefruit water: astringent, tonic: pores tightened and skin smoothed!
Organic apricot water: moisturizing, protective: a very soft skin!
Organic tomato water: regenerating, enlightening, antioxidant: an enlightened and radiant skin!
With all this good ingredients, this product's lifetime is about 12 months after opening.

And what about people who tried it?
« Addictive », « surprising », « miraculous »…Eau de Genie keeps its promises and gets really good reviews!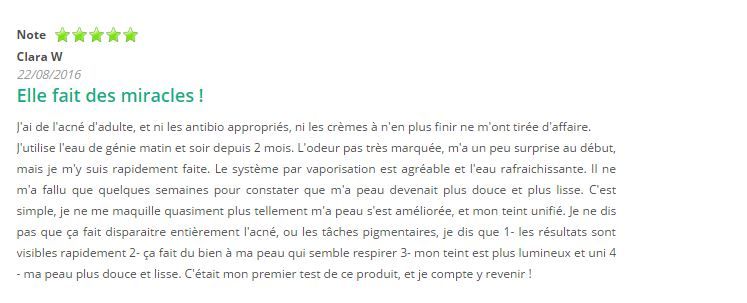 She does miracles!
I have adult acne, and both skin care creams and antibiotics did not help me end with this problem. I have been using Eau de Génie on mornings and evenings for 2 months now. At the beginning, I was a little bit surprised by the odour which is really light. The vaporiser is pleasurable and the product is refreshing. After only few weeks, I already got a smoother and soft skin. It's simple: I wear so much less makeup now as my skin is much prettier and my complexion is nicer. I don't say the product completely eliminates acne or pigmentation marks but I can say that: First, you can rapidly see results, second, my skin seems to "breath" better, then, my complexion is more glowing and unified, and finally, my skin is smoother and soft. I tried this product for the first time and I will do it again!
What I liked: The vaporiser, we can apply the necessary amount of product. It is pleasurable and refreshing. A discreet odour. Soft and light lotion.
What convinced me: Results!
Addictive
My skin is more and more soft.
What I liked: The odour and the refreshing feeling on my face.
What convinced me: My skin is soft and glowing.
Surprising!
After 10 days of use, my skin is more and more soft. It is less irritated and it doesn't peel anymore.
Eau de Génie is also famous on Instagram!
If you want to get a perfect skin for spring, just make a wish and let Eau de Genie makes it come true!
You can find this marvellous product at Indemne.fr/en/
For an even more glowing complexion, you can read : Let's get rid of blemishes!